Art Therapy Workshop
With Jeanne Surmont
April 15 - 22, 2017
Our week long retreats are hosted from Saturday to Saturday. All of our retreats follow a similar agenda:
Breakfast, lunch and dinner are provided by Philia. We are an all inclusive spiritual retreat center. All meals are optionally vegetarian or vegan.
Saturday: Pick-up from San Jose airport, welcome to our center, visit of the property, our vision and review of the week program
Sunday: Connection process in the morning and Completion process in the afternoon between attendees, volunteers and facilitators
Monday: Activity day (ex. hiking in the rainforest)
Tuesday: Workshop day 1
Wednesday: Workshop day 2
Thursday: Workshop day 3
Friday: Leisurely day at the Playa Blanca. Relaxation and more connection
Saturday: Check out
What is art therapy?
Art therapy is a form of expressive therapy that uses the creative process of making art to improve a person's physical, mental, and emotional well-being. The creative process can help people to resolve issues as well as develop and manage their behaviors and feelings, reduce stress, and improve self-esteem and awareness and receive a deeper understanding of oneself. It is also a very beneficial technique to use with people who can't find words or language to express what has been experienced, especially during heavy and/or early trauma. Also, sometimes words or languages are limited to communicate what needs to be expressed. Art therapy also supports to work through themes and to eventually objectify and distance from the painful experiences.
Who can use art therapy?
Anyone can use art therapy. You don't need to be talented or an artist to receive the benefits.
Why do art therapy?
Art therapy can have quite a number of beneficial effects. Here are a few:
Help to express oneself (without words) through color, material & form
Help to stimulate creativity, sensuality, pleasure, concentration and expansion
Help to express emotions and feelings
Help to connect to own aspects (e.g. inner children, resources) and to other people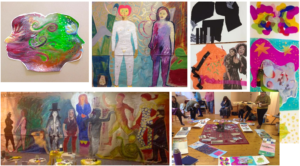 This workshop includes:
Stimulating imagination,
Connecting to ones name/identity,
Presenting oneself and connecting to others in the group,
Fostering decision-making,
Becoming aware what polarities are and how they co-exist in life,
Allowing introspection and connection to aspects of oneself and to an
aspect of someone else,
Using music and body movement to stimulate and boost creativity,
And more!